Thought I'd post a how to for this since I've been getting messaged by people on how to do this. Mods, please make this a sticky.
Posting a picture to your signature is actually quit easy, so this will be a fairly simple How to. First you'll need a picture for your signature. You can use any number of programs to do this, I.E. Photoshop, paint, Etc. The biggest thing to consider when doing this is the image size. Ideally your image should be no bigger than 500-600 pixels wide by 150-200 pixels tall. Once you have done that:
1. You will need to use an image hosting site such as photobucket or flickr. I'm going to use photobucket for the example since that is what I use.
Once you have created an account and logged in, you are going to want to upload the picture (See circled button in red in the pick below). You can do this by clicking upload now and then navigating to the picture you want to upload from your computer. Once you have found it click upload now. Once you have finished that it will give you a couple of options click "save and continue to album". It will then take you to the following screen:
As you can see from the screen shot, if you hover over the picture you want to post it will bring up a dialogue box containing different posting codes. You want to use the BB code which is labeled IMG code. See the instructions in the picture above.
2. After you complete those steps you are going to want to get to your profile editor. You can get there by clicking on the user control panel link in the upper right and the by clicking on the profile tab. After you click the tab click on the edit signature link to the left. You will then see the following screen and you can follow the instructions in the screen shot from there: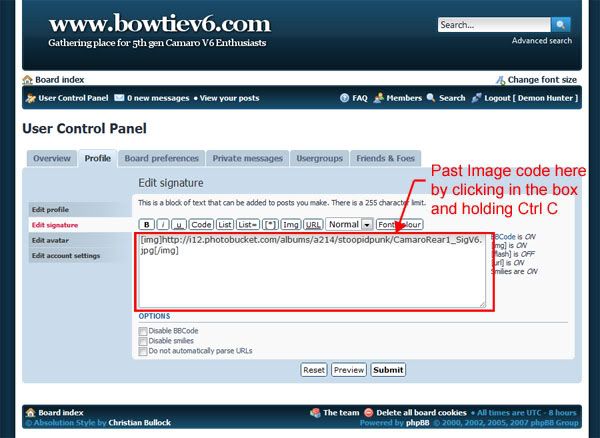 And there you have it! A picture in your signature. Hope this helps you guys.